West Highland Studio Equipment List
Computer: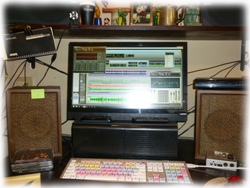 Creation Station 450X
Visio High Definition Monitor
Recorders:
Alesis XT20 ADAT Tape Machine
ZOOM H2 Portable Digital Recorder
Sony 59ES DAT Machine
Technics RST22 Duel Cassette Recorder
Mega Lynx 7 Disc Multiple Burner
Mixing Boards:
Behringer 2442A Mixing Desk
Behringer MX2004A Mixing Console
Outboard Gear:
Lexicon MPX-100 Multi Effect Processor
Yamaha SPX-90 Multi Effects Processor
Behringer PX2000 Patchbays
Samson S-phone Multi Channel Headphone Amp
Key Boards & Midi:
E-mu Proteus/2 Sound Modual
Yamaha SY-77 Keyboard
Yamaha Clavinova Weighted Controller
M-Audio Keystation 49e
Monitors and Monitor Amp:
TOA 280-ME Near Field Monitors
Sonics Near Field Monitors
Technics SU-V6X Integrated Power Amp
Microphones:
Blue
Nuemann
Senhieser
Shure
Nady
Audio Technica
Ocava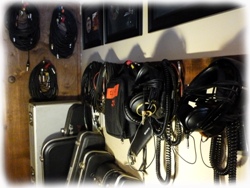 Headphones:
Sony
AKG
Optimus
In House Percussion:
Ludwig Five Piece Drum Kit (8 ply maple)
Tama Swingstar Snare
DW Kick Pedal
Zildian and Paste Cymbals
Various percussion instruments too numerous to list.
In House Stringed Instruments:
Fender JG268 Acoustic Guitar
Westone Pantera 4 String Bass
Schecter 5 String Bass
Antique Mountain Dulcimer
Antique Violin
Bowed Psaltry
Celtic Lap Harp
Miscellaneous:
Technics DC Servo Linier Tracking Turntable
Korg CA-20 Digital Tuner
JL Cooper MIDI Interface
Carvin PBII-100 Pro Bass II Amp
In House Backing Vocalists
Editing Software
Wavelab Elements 7
Personal Audio Editing System
New session management concept with Workspaces
15 first-class VST3 plug-ins including Studio EQ, VST Dynamics, Compressor and Gate
Audio Montage, basic selection of editing tools and marker support
High-end restoration suite from plug-in specialists Sonnox, consisting of DeNoiser, DeClicker and DeBuzzer
Audio analyzing and metering tools, including 3-D pectrum view and Spectroscope
DIRAC 2.2 time-stretching and pitch-shifting algorithms
Auto-Tune 7
World Standard Professional Pitch and Time Correction
The second generation of Evo Voice Processing Technology for even higher quality pitch shifting and throat modeling
The ability to fine-tune vocal timbre by adjusting Throat Length on an individual correction object basis
An enhanced Graphical Mode Adjust Vibrato function
Increased maximum vertical zoom range (to one cent per pixel) in Graphical Mode
Expanded keyboard shortcuts to incorporate the new time manipulation controls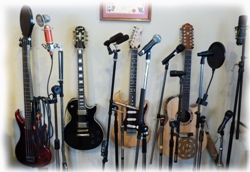 Ministry of Rock
Featuring Shane Gibson, quitarist with Stori/Schwarzenator/KoRn, Greg Suran, guitarist with Goo Goo Dolls/Avril Lavigne/Glee, Doug Rappaport, guitarist with Edbar Winter/Potent, Tal Berman, drummer with Billy Idol, LL Cool J, Rod Stewart, Terence Trent Darby, Joe Zawinul
Drums
3 large rock kits (DW, Gretch, Ludwig) recorded in EastWest Studio 1, plus 6 additional snares
New live technology makes ultisampled drums sound like a live performance
Repetition samples for everything and extreme dynamics
3 mic positions let you dial in the right room sound
Legendary sound using Neve, Newmann, Telefunken, AKG, Manley, Fairchild, Royer, Chandler and Meitner gear
Guitars
Fender Jaguar, Fender Telecaster Thinline, Carvin 7 String, Baritone, Gibson Les Paul, Schecter 7 string
All guitars featuring round robin, hammer on and pull off legato, sliding legato and dozens of techniques
Dual channel recordings let you pick a wicked real amp sound or use the direct signal with you favorite plugins
Fender, Divided by Thirteen, Marshall, Mesa Boogie, Bogner and Vox Amps
Basses
MOR 2 includes all the remasted content from Harcore Bass and Hardcore Bass XP, Fender, Hofner, Gibson, Silvertone, Rickenbacker, Musicman and Lakland basses
All new 5 string Musicman Stingray bass with 7000 samples and true legato
Features
57 Gig collection produced by Nick Phoenix
The ultimate rock VI recorded in EastWest Studio 1, 2 & 3
Drums sound like a live performance with Live Technology
Gypsy
Quantum Leap G
YPSY
Quantum Leap Gypsy features a collection of extremely detailed Gypsy style virtual instruments capable of playing completely realistic performances. Gypsy is essential for film, tv and game composers.
The nylon string guitar, violin and trombone can play in both Gypsy and Classical styles. In the classical realm these three instruments are unparalleled in the sampling world in terms of payability, diversity and sound quality.
The new king of sampled violins has arrived. The violin and trombone feature many articulations, repetitions and even multi-speed true legato intervals.

GYPSY's guitars sound incredible and were played by one of the best session guitarists in Los Angeles, David Kole. All of the guitars were sampled with up and down strokes, many velocities and picking styles, release trails, chords and effects.
Flamenco guitar is a one of a kind masterpiece. The accordions feature many different setups, all with air flow in and out samples, as well as expressive samples, chords and left hand bass.
GYPSY also has a very cool GYPSY percussion program and two flamenco dancers (foot stomps, as well as traditional castanets).
GYPSY also features an incredible bandoneon and cimbalom, two very rare instruments
Produced by Nick Phoenix

Includes extremely detailed Gypsy style solo instruments and more

Essential collection for film, television and game composers

Recorded in the famous EastWest Studios with vintage microphones, Meitner AD converters and vintage Neve consoles

Includes EastWest play 32-bit and 64-bit advanced sample engine (plug-in and standalone)

Solo instruments with unprecedented detail

Violin (true legato intervals, multiple speeds) classical and gypsy styles

Classical Guitar

Flamenco Guitar

Django Style Guitar

Spanish Steel String Guitar

Campana Accordion

Silvestri Accordion

Excelsior Accordion

Bandoneon (tango accordion)

Trombone (true legato intervals) classical and gypsy styles

Cimbalom (Eastern European Hammered Dulcimer)

Flamenco dancer floor stomps and castanets

Gypsy percussion
Symphonic Orchestra
The Way An Orchestra Should Sound
Intelligent Performance section including Poramento, Repetition, Legato, Round Robin Reset

State of the art Convolution Reverb with pre-delay and additional master control to route reverb to all instruments in an instance

Produced by award-winning Virtual Instrument producers Doug Rogers and Nick Phoenix

Recorded by 11 time Grammy classical recording nominee Pro. Keith O. Johnson

Multiple microphone setups (close-up, stage ambience and hall ambience) for total control of real concert hall ambience

all instruments chromatically sampled at multiple dynamics with full release trails and expressive articulations. Bonus Steinway Grand Piano included

by EastWest